Letter from Chairman - Mr. Asif Zamir Khan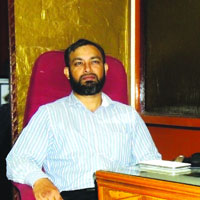 Dear Clients,

Demand for Manpower is considered to be one of the most important techniques for the uprising of a business establishment, especially in the Gulf area where the construction work is going on and industries are setting up at a very large scale that is why it is considered a necessity rather than demand. It is essential that you select the most specialized & distinguished recruiting agency to ensures sincere, hard working and efficient workers for your estimated establishment.

Keeping this in mind, we initiated out team, in the year 1978 by establishing a company that is specialized & highly professional in maintaining a reputed name for so many long years hereby proving our efficiency in supplying the best professionals to our esteemed clients. Our business ideology is mainly based on the four pillars of Trust, Reliability, Efficiency & Superior quality.

We have gained the trust of our valued Clients by making "Right man for the Right Job" our motive. We are continuously upgrading & developing our services, employing highly skilled & technical staff to meet the demand for superior services supported by our vast Associates all over India, experiences & skills.

We assure you of our best co-operation and prompt attentions at all times.

Asif Zamir Khan.
Chairman.
Mumbai, India.