Letter from MD - Mr. Arif Zamir Khan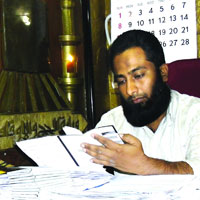 Dear clients.

I hope this brochure has provided you a detailed insight of our Overseas Manpower Recruiting Agency.

Chairman Asif Zamir Khan & I are personally involved in the daily business activities and we are strongly committed to our business ideology of offering honest & quality personnel's.

We always intend to maintain healthy long term relationship with our clients. Our services are highlighted with unique features like guarantee of our works, computerized database, etc. By the Grace of Allah & with the continued support of our valued clients, we are achieving our objectives.

The vision of our dedicated management & determination of our technical work force continue to be the driving force behind the growth & expansion of our company. We assure you of the best people and service available.

We look forward to the privilege of providing you our distinct service.

Arif Zamir Khan
Managing Director.
Mumbai, India.